In an era where productivity and well-being intersect, our work spaces have evolved beyond mere functional areas. Be it a home office or your garage, The modern professional seeks an environment that not only nurtures their efficiency but also safeguards their health. Enter the FlexiSpot E7 Pro Plus Standing Desk – a revolutionary solution designed to elevate your work experience to new heights, quite literally.
The FlexiSpot E7 Pro Plus Standing Desk isn't just a piece of office furniture; it's a gateway to a transformed way of working. In this dynamic age of work-life integration, where the boundaries between personal and professional spheres are more fluid than ever, the concept of a desk that adapts to your needs and enhances your well-being is a game-changer.
In this detailed Review of the FlexiSpot E7 Pro Plus Standing Desk, we will delve into its remarkable features, its profound impact on both productivity and wellness, and how it aligns seamlessly with the modern work environment.
The FlexiSpot E7 Pro Plus Standing Desk: An Overview
Imagine a workspace that seamlessly adapts to your every need, where the boundary between sitting and standing is fluid, and comfort is never compromised. This is precisely what the FlexiSpot E7 Pro Plus Standing Desk offers
Elevate Your Work Experience
At the heart of the FlexiSpot E7 Standing Desk lies a symphony of features meticulously designed to cater to modern work dynamics. its state-of-the-art dual motors allows you to put more weight than single motors, which is important if you plan on putting a lot of heavy items on your desk. Also, Dual motors can raise and lower your desk more quickly than single motors, which is convenient if you frequently switch between sitting and standing.
Form Meets Function
Visually, the FlexiSpot E7 Standing Desk is a masterpiece of minimalism and functionality.This desk isn't just smart – it's good-looking too. It's got a modern style that fits in any office, from super fancy to super chill. And don't worry, it's strong and steady too, so you don't have to be gentle with it.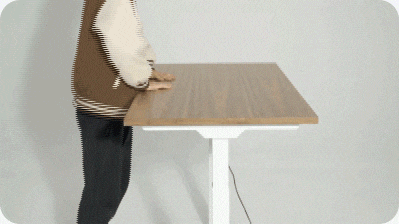 Stable at every angle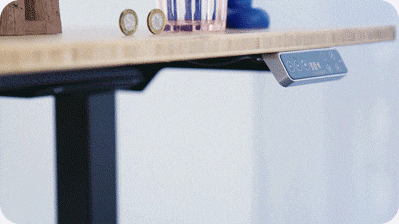 Steady when moving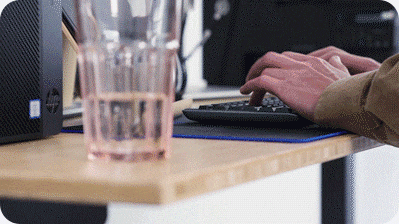 Sturdy at the highest level
Fits Anywhere You Work
Whether you're in a cozy home office or a bustling tech hub, the FlexiSpot E7 Pro Plus Desk adapts. It doesn't demand a corner office; it excels in optimizing space. Its smart dimensions fit diverse environments without compromising performance.
FlexiSpot E7 Pro Plus Standing Desk Assembly & Usage
We got the 60″ x 30″ Chipboard(Great Quality) for our Desktop , the T-Frame Dual motors Frame and the Premium Key pad (Recommended) as part of our FlexiSpot Standing Desk Review unit.
Assembly & Instruction
Assembling any big furniture is a daunting task.Even with instructions, it can be intimidating to assemble at first. After all, it comes with motorized parts and a lot of different pieces. However, I'm here to tell you that assembling the FlexiSpot E7 Standing Desk is actually quite easy.
The instructions are clear and easy to follow for the most part, and all of the tools you need are included. The hardest part is probably just lifting the heavy base into place(you'll need two people for that!) . But once you get that done, the rest of the assembly is a piece of cake.
We assembled our E7 Pro Plus Standing Desk in about 45 minutes, although we did run into one difficulty. The manual instructed us to connect the legs to the wooden top before connecting them to the middle frame. However, We found it difficult to align the holes of the middle frame while the legs were already connected. As a result, We had to disassemble the legs and then reconnect them after the middle frame was in place.
Performance
The FlexiSpot E7 Standing Desk's Dual motors are really quiet and its up-and-down movement is smooth. You can adjust the height by tenths of an inch, giving you precise control over the desk's height.
Our model came with the optional Premium Keypad, which is $20 more than the standard Advanced Keypad. the main difference is The Premium keypad is sleek and has four preset memory buttons for saving your desired height. There are also two buttons for raising and lowering the desk manually, and a function button for saving your presets and locking the desk height. The lock function is especially useful if you have curious children. The keypad also has a USB port (Up to 12w charging) for charging your devices.
The good thing, FlexiSpot E7 Standing Desk has Anti-Collision built-in, so there wont be chance of accidental lowering the desk and crushing everything on the way down.
Cable Management
For a sleeker, more comfortable workspace, the cable tray under the FlexiSpot E7 Standing desktop tucks all your cables out of view.
For additional cable management, you can also get their Cable Management Tray which will handle all your power strips and hefty laptop chargers and give a premium look. Our Review unit did not come with it, but it came with a small but great Cable Management Kit Organizer Set which helped a lot in hiding all the unwanted cables.
Accessories
We also got chance to use other great FlexiSpot accessories including their Under Desk Power Strip With USB , Laptop Docking Stand with Dock (works great for Macbook Pro), Intelligent Monitor Arm with Docking Station (Perfect for any 27″ to 49″ 4K monitor) and Slim Under Desk Storage Drawer. but for this review we will concentrate more on the Standing Desk.(please ask your questions about them in comments, we will be happy to reply)
Tips for the FlexiSpot E7 Pro Plus Standing Desk
In the tech world, we're always chasing better performance, but what if I told you that there's a desk that's not just about boosting your work output? The FlexiSpot E7 Pro Plus Standing Desk is like a tech upgrade for your well-being, going beyond productivity to prioritize your health.
Giving Your Body a High Five
Sitting too much can be like a glitch in the system – it messes up your body's flow. But the FlexiSpot E7 Pro Plus Standing Desk has a fix. By letting you stand up while working, it keeps your muscles engaged and your blood pumping. It's like a high-five for your body, keeping things running smoothly. We also tried FlexiSpot Ergonomic Standing Desk Anti-Fatigue Mat (highly recommended for extended working hours)
How to use a standing desk properly?
Height adjustment
To find your ideal desk height when standing (or sitting), the desk should be high enough to reach just under your elbows while you're using the keyboard. Your eyes should also be level with the top third of the computer monitor; this will help you find the perfect height, and protect you from eye strain.
How long should you stand for?
Change positions from sitting to standing every 30-60 minutes. Generally, it's recommended that you stand for 30 minutes after an hour of sitting. It's also helpful to move around regularly, so you don't tense up when standing.
Standing desk add ons to elevate your well-being
Conclusion
Overall, the FlexiSpot E7 Pro Plus Standing Desk was a joy to use. It is large, beautiful, responsive, and a great desk to work on. We rarely encountered any issues with it.
If you are looking for a reliable, affordable, and safe standing desk to work at, then We highly recommend the FlexiSpot E7 Pro Plus Standing Desk.
To conclude, here are some of the pros and cons we found about the FlexiSpot E7 Pro Plus Standing Desk.
Hope this comprehensive review helped you to make a decision if you are on the fence. Please let us know your thoughts in the comments.
Pros
---
Easy to assemble: The FlexiSpot E7 is very easy to assemble, even for someone with no prior experience. I was able to assemble it with my 11-year-old daughter in under an hour.
Sturdy and durable: The FlexiSpot E7 Standing Desk is very sturdy and can hold up to 350 pounds. It is also very quiet, even when raising or lowering the desk.
Smooth and adjustable: The electric raise/lower feature is very smooth and easy to use. You can also program your preferred standing and sitting heights, and the desk will remember them.
Sleek design: The FlexiSpot E7 Standing Desk has a sleek and modern design that will look great in any office. It is also available in a variety of colors to match your decor.
Affordable: The FlexiSpot E7 Standing Desk is very affordable, especially considering its quality and features.
Cons
---
Heavy shipping package: The shipping package for the FlexiSpot E7 is very heavy, so it may be difficult to bring inside by yourself.
Confusing cable tray installation instructions: The instructions for installing the cable tray were a bit confusing. It took me a few tries to figure out how to properly install it.
The Premium Key pad is little sensitive you can activate it accidentally with just standing by it.although the anti-collision stops it if something is in the way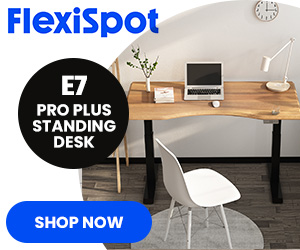 Affiliate Disclosure

We offer this website completely free to our visitors. To help pay the bills, we'll often (but not always) set up affiliate relationships with the top providers after selecting our favorites. However, we do our best not to let this impact our choices. There are plenty of high-paying companies we've turned down because we didn't like their product.